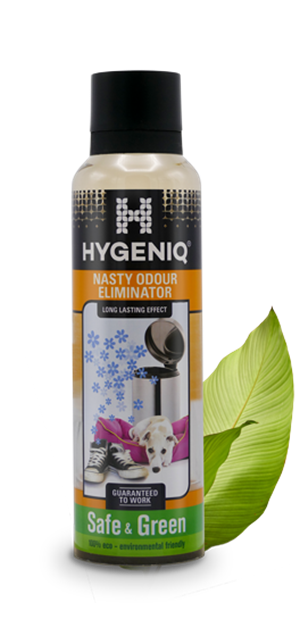 Nasty Odour Eliminator
Air freshener that eliminates stench and nasty odours through probiotic composition. Works on bins, (sport)shoes, cigarette smell, food smell, pet-related smell etc.
Immediate effect after application
Works on all nasty odours
No aggressive ingredients used
Safe and mild to the skin, no toxic or harmful fumes
Spray on, leaves a fresh fragrance

Dosage: Ready to use
Contents: 185 ml
Packaging: Hygeniq Spray
About this product
HYGENIQ nasty odour eliminator has no harmful nor toxic chemicals added. It is safe and mild to the skin and contains no harmful fumes. Removes stench and unpleasant odours safely, quickly and effectively. Amongst others it is suitable for animal baskets, waste bins, (sports) shoes, sports bags etc. It leaves a long lasting fresh scent. Easily spray in the area or onto the material to be treated. When treating shoes the soles should also be lifted to spray underneath.
HYGENIQ products do not pose a risk to your health, your property or the environment, provided that they are used for the purpose for which they have been developed by HYGENIQ, in accordance with the instructions provided by HYGENIQ.  Despite of this, it is recommended to keep it out of reach of children. For more information, visit www.hygeniq.com or send an e-mail to info@hygeniq.com.
Questions?
We are here for you