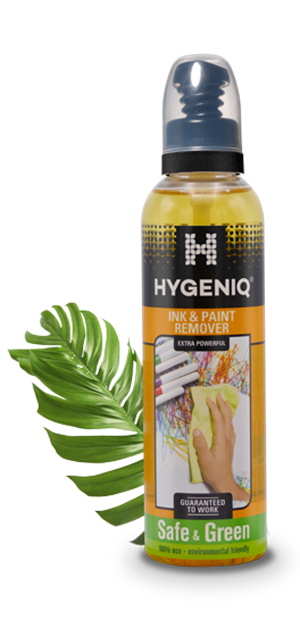 Ink & Paint Remover
Special cleaner for the removal of various inks, (spray) paints and (permanent) markers from all kinds of smooth hard washable surfaces.
Effectively removes all kinds of ink
Safe on all solvent-resistant materials
No aggressive solvents used
Safe and mild to the skin, no toxic or harmful fumes
Easy to use pump spray

Dosage: Ready to use
Contents: 150 ml
Packaging: Pump Spray
About this product
HYGENIQ ink & paint remover has no harmful nor toxic chemicals added. It is safe and mild to the skin and contains no harmful fumes. Safe to use on all solvent-resistant materials. Always test the surface for product resistance before treatment. It contains special ingredients that ensure the effective removal of paint, varnish and ink from tiles, trespa, plastic, artificial leather, glass, aluminium and lacquered surfaces. Spray an appropriate amount onto the dry surface to be treated. Let it work for 5-10 min. Brush the most stubborn parts with a brush or scourer and remove the grime with a damp sponge or cloth. If the desired result is not immediately achieved, the treatment can be repeated several times without problems. After treatment clean the surface with HYGENIQ's 3-in-1 indoor cleaner.
HYGENIQ products do not pose a risk to your health, your property or the environment, provided that they are used for the purpose for which they have been developed by HYGENIQ, in accordance with the instructions provided by HYGENIQ.  Despite of this, it is recommended to keep it out of reach of children. For more information, visit www.hygeniq.com or send an e-mail to info@hygeniq.com.
Questions?
We are here for you