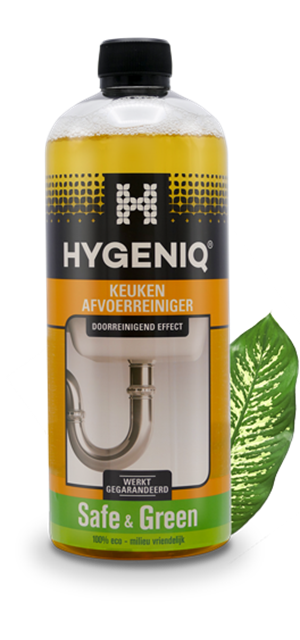 Kitchen Drain Cleaner
Unique pro-biotic drain cleaner with a continuous self-cleaning effect, for deblocking drains and piping in kitchens.
Effectively dissolves food residues
Prevents new blockages
On-going cleaning effect
Permanently eliminates nasty odours
Safe and mild to the skin, no toxic or harmful fumes

Dosage: Ready to use
Contents: 750 ml
Packaging: Bottle
About this product
HYGENIQ kitchen drain cleaner has no harmful nor toxic chemicals added. It is safe and mild to the skin and contains no harmful fumes. Effective and safe biological drain cleaner. Safe for use in all kinds of drains and pipes. Easily resolves blockages caused by food residues. Through continuous biological (enzymatic) activity the drains and pipes will become thoroughly cleaned and any nasty odours will be permanently removed. Apply 1/4 of a bottle into your drain and add approx. 0.5 litres of lukewarm water. Leave to work for at least a few hours. For best results it is advisable to let it work overnight. Flush with warm (but not hot) water after treatment. Apply 1/10th of a bottle weekly to prevent new blockages and to have permanently odourless drains.
HYGENIQ products do not pose a risk to your health, your property or the environment, provided that they are used for the purpose for which they have been developed by HYGENIQ, in accordance with the instructions provided by HYGENIQ.  Despite of this, it is recommend to keep it out of reach of children. For more information, visit www.hygeniq.com or send an e-mail to info@hygeniq.com.
Questions?
We are here for you