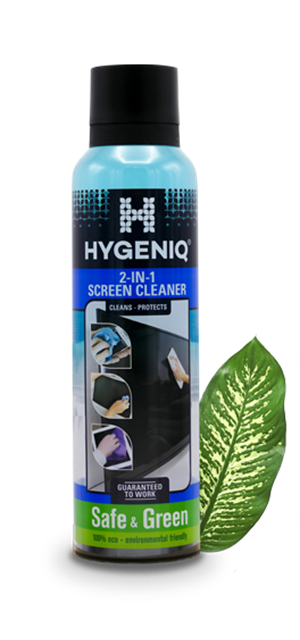 2-in-1 Screen Cleaner
Unique, effective and safe screen cleaner for cleaning screens of TV's, computers, smartphones and tablets, and whiteboards.
Streak-free, leaves no residue
Anti-static formula, prevents recurring dirt
Effective and safe on all surfaces
Safe and mild to the skin, no toxic or harmful fumes

Dosage: Ready to use
Contents: 185 ml
Packaging: Hygeniq Spray
About this product
HYGENIQ screen cleaner has no harmful nor toxic chemicals added. It is safe and mild to the skin and contains no harmful fumes. Cleans all Smartphone, Tablet, TV, and Computer displays streak-free and effectively and leaves absolutely no haze. It lmakes the surface anti-static which prevents recurring dirt. Spray a reasonable amount onto a clean soft dry cloth  and wipe the (preferably cooled) surface to be cleaned.
HYGENIQ products do not pose a risk to your health, your property or the environment, provided that they are used for the purpose for which they have been developed by HYGENIQ, in accordance with the instructions provided by HYGENIQ.  Despite of this, it is recommended to keep it out of reach of children. For more information, visit www.hygeniq.com or send an e-mail to info@hygeniq.com.
Questions?
We are here for you