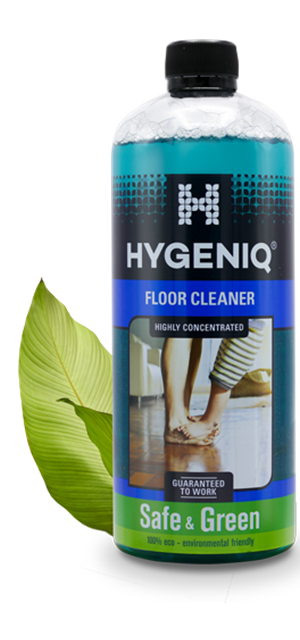 Floor Cleaner
Universal floor cleaner with powerful cleaning effect. Suitable for all types of water resistant hard floors such as natural stone, tiles, laminate, linoleum, PVC etc.
Super concentrated formula (1:50 dilution)
Effectively removes all kinds of grime
Streak-free, leaves no residue
Effective and safe on all surfaces

Dosage: 1 : 50
Contents: 750 ml
Packaging: Bottle
About this product
HYGENIQ floor cleaner is a highly concentrated formula which has no harmful nor toxic chemicals added. It is safe and mild to the skin and contains no harmful fumes. Cleans all water-resistant floors easily, effectively, streak-free and leaves no residue. Suitable for laminate, tiles, (natural) stone, ceramics, PVC and plastic. Mix 1 part of floor cleaner with 50 parts of water. Clean the floor with a (wrung out) mop. For best results rinse the mop regularly in the cleaning solution. Leave the floor to dry on its own.
HYGENIQ products do not pose a risk to your health, your property or the environment, provided that they are used for the purpose for which they have been developed by HYGENIQ, in accordance with the instructions provided by HYGENIQ.  Despite of this, it is recommended to keep it out of reach of children. For more information, visit www.hygeniq.com or send an e-mail to info@hygeniq.com.
Questions?
We are here for you