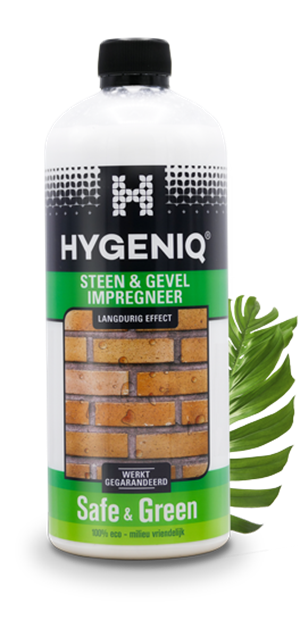 Brick Protect
Long-lasting impregnating fluid. Makes brick and porous stone surfaces water, dirt and algae repellent.
Forms a strong water shield
Unique 'breathing' formula
Just spray or brush-on, easy to apply
Long lasting (10 years) result
Safe and mild to the skin, no toxic or harmful fumes

Dosage: Ready to use
Contents: 750 ml
Packaging: Bottle
About this product
HYGENIQ brick protect has no harmful nor toxic chemicals added.  It is safe and mild to the skin and contains no harmful fumes.Treated surfaces become water-repellent. This prevents the growth of algae, moss and fungi and the adhesion of dirt. Before application the surface should be clean, dry and free of grime. Cover surfaces not to be treated beforehand. Apply the product evenly and without interruption with a spraying device. Apply on vertical surfaces from bottom to top to allow the surface to absorb the fluid  optimally and to create an evenly effect. On smaller surfaces it can be applied with a suitable wall paint brush. For an optimal result repeat the treatment until the surface is fully saturated. When applied correctly, the effect will last 5 to 10 years. Always test the surface to be treated beforehand in a place that is not directly in sight to be sure there will be no undesirable effects.
HYGENIQ products do not pose a risk to your health, your property or the environment, provided that they are used for the purpose for which they have been developed by HYGENIQ, in accordance with the instructions provided by HYGENIQ.  Despite of this, it is recommended to keep it out of reach of children. For more information, visit www.hygeniq.com or send an e-mail to info@hygeniq.com.
Questions?
We are here for you