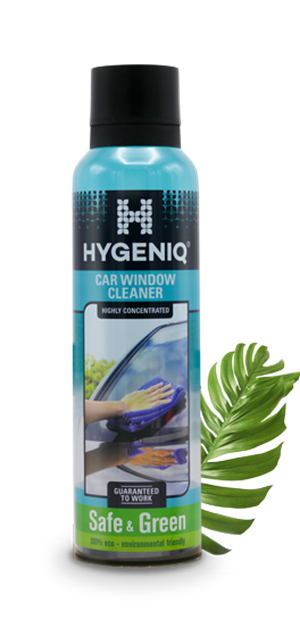 Car Window Cleaner
Concentrated spray cleaner for car and caravan windows, windshields etc. Unique formula with exceptional output (200 windows).
Strong streak-free cleaning - leaves no residue
Suitable for glass and plastic windows
Interior and exterior use
Up to 200 windows per bottle
Safe and mild to the skin, no toxic or harmful fumes

Dosage: Ready to use
Contents: 185 ml
Packaging: Hygeniq Spray

100 % Bio-degradable
100% Recyclable

NO propellants!
Making 600 ML aerosol =
185 ML HYGENIQ spray
About this product
HYGENIQ car window cleaner has no harmful nor toxic chemicals added. It is safe and mild to the skin and contains no harmful fumes. Cleans all interior and exterior glass and plastic window surfaces on cars, caravans, motorcycles and boats quickly, safely and effectively. It will leave a streak-free result with absolutely no haze. 1 bottle cleans up to 200 car windows. Apply to the surface to be cleaned. In case of coarse grime, work with a scourer. Wipe the surface with a tissue or a clean dry or mildly damp cloth.
HYGENIQ products do not pose a risk to your health, your property or the environment, provided that they are used for the purpose for which they have been developed by HYGENIQ, in accordance with the instructions provided by HYGENIQ.  Despite of this, it is recommended to keep it out of reach of children. For more information, visit www.hygeniq.com or send an e-mail to info@hygeniq.com.
FAQ
How many windows can one (1) spray bottle of HYGENIQ Car Window Cleaner cleans?
200 windows (standard size).
What is unique about the HYGENIQ-spray bottle of HYGENIQ products?
There is no dirty and unhealthy propellant being used – HYGENIQ spray is just using clean air. Unlike conventional spray-cans, where propellants occupy roughly 2/3 of the bottle content, the HYGENIQ Spray contains 100% pure product. There is no need to shake the HYGENIQ spray before use – the product remains evenly distributed, even without shaking. It also works 360 degrees under every angle to reach difficult accessible areas.
Questions?
We are here for you