3-in-1 Stainless Steel Cleaner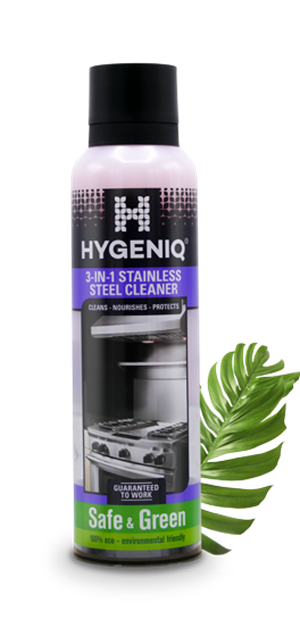 3-in-1 Stainless Steel Cleaner
Special 3-in-1 combined cleaning, nourishing and protection for stainless steel, chrome and aluminium surfaces.
Cleans, nourishes & protects
Prevents recurring dirt
Results in a deep gloss
Effective and safe on all surfaces
Safe and mild to the skin, no toxic or harmful fumes

Dosage: Ready to use
Contents: 185 ml
Packaging: Hygeniq Spray
About this product
HYGENIQ 3-in-1 stainless steel cleaner has no harmful nor toxic chemicals added. It is safe and mild to the skin and contains no harmful fumes. It effortlessly removes stains from all stainless steel, polished chrome and polished aluminium surfaces and leaves a protective, long-lasting, dirt-repellent, deep glossy film. Remove stubborn grime before use. Spray an appropriate amount onto the surface and rub with a clean dry cloth until a clean result and a deep gloss shine is created. The treatment can be safely repeated if the surface does not show a satisfying effect immediately.
HYGENIQ products do not pose a risk to your health, your property or the environment, provided that they are used for the purpose for which they have been developed by HYGENIQ, in accordance with the instructions provided by HYGENIQ.  Despite of this, it is recommended to keep it out of reach of children. For more information, visit www.hygeniq.com or send an e-mail to info@hygeniq.com.
Questions?
We are here for you