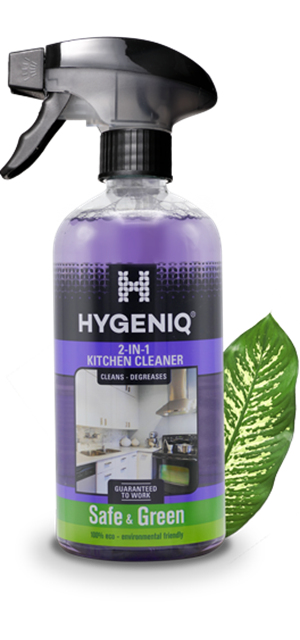 2-in-1 Kitchen Cleaner
Multipurpose 2-in-1 degreasing cleaner for stainless steel, plastic, wood and natural stone surfaces in the kitchen.
Exellent degreasing & cleaning capabilities
High dirt absorbing capacity
Streak-free, leaves no residue
Effective and safe on all surfaces
Combi foam-spray bottle 360º application

Dosage: Ready to use
Contents: 500 ml
Packaging: Combi Spray
About this product
HYGENIQ 2-in-1 kitchen cleaner has no harmful nor toxic chemicals added. It is safe and mild to the skin and contains no harmful fumes. Cleans and degreases all hard washable surfaces in the kitchen safely, easily and effectively. Suitable for worktops, cupboards, equipment etc. Use the foam function to create longer contact time when using on vertical surfaces or when targeting specific areas. To cover larger areas use the spray function. Apply onto the surface to be cleaned. For stubborn grime let it work for 5-10 min. and brush off  with a scourer or brush. Wipe with a clean damp cloth and allow to dry without rinsing.
HYGENIQ products do not pose a risk to your health, your property or the environment, provided that they are used for the purpose for which they have been developed by HYGENIQ, in accordance with the instructions provided by HYGENIQ.  Despite of this, it is recommended to keep it out of reach of children. For more information, visit www.hygeniq.com or send an e-mail to info@hygeniq.com.
Questions?
We are here for you