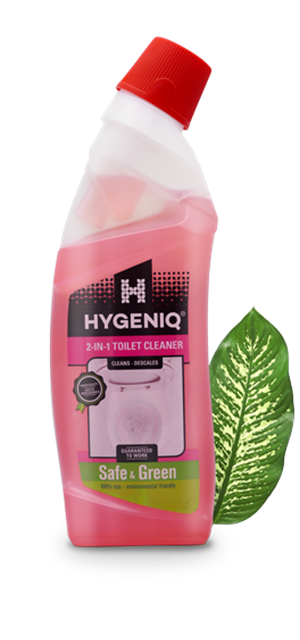 2-in-1 Toilet Cleaner
Exeptional cleaner with unique descaling capabilities for both toilets and urinals. Special and unique application bottle.
Powerfull cleaning capabilities & removes limestone
Special ultra-safe descaling technology
Unique 'always the right angle' bottle
Bio based & easily biodegradible

Dosage: Ready to use
Contents: 750 ml
Packaging: Toilet Bottle
About this product
HYGENIQ 2-in-1 toilet cleaner has no harmful nor toxic chemicals added. It is safe and mild to the skin and contains no harmful fumes. Cleans and descales your toilet and urinal hygienically and effectively. With the unique application bottle you can easily clean under the rim, even when the bottle is almost empty. Apply the cleaner and let it work for 5-10 min. If needed brush stubborn dirt and rinse the toilet. Wipe the outside with a clean damp cloth.
HYGENIQ products do not pose a risk to your health, your property or the environment, provided that they are used for the purpose for which they have been developed by HYGENIQ, in accordance with the instructions provided by HYGENIQ.  Despite of this, it is recommended to keep it out of reach of children. For more information, visit www.hygeniq.com or send an e-mail to info@hygeniq.com.
Questions?
We are here for you