28-03-2019
HYGENIQ® is the first Dutch developer and producer of eco-friendly and safe cleaning products with a Cradle to Cradle ™ certification at GOLD level.A Cradle to Cradle ™ certification is independent and stands for authentic circular development and production.
To be eligible for a certificate, an independent organization accredited from the Cradle to Cradle ™ institute will test against the following five criteria:
Health of the materials and components used;
Re-use of materials and components;
Use of renewable energy and reduction of CO2;
Use of water and waste stream management;
Social justice in the chain.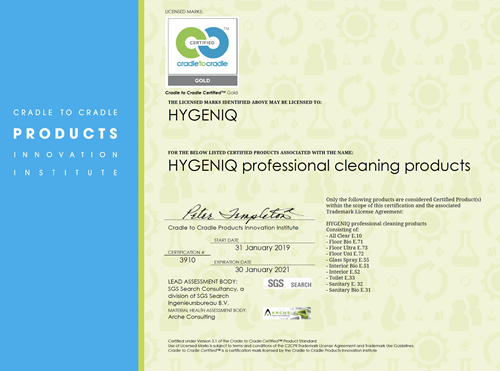 A product gets a performance level for each category: Basic, Bronze, Silver or Gold. The highest attainable certificate level in this industry is GOLD. Every two years, producers must show continuous improvements in order to be able to re-certify their products.
Cradle to Cradle Certified ™ is the only globally applicable sustainability certification and is recognized by many leading brands, organizations and institutions.
This makes HYGENIQ® one of only 96 companies worldwide with certification at this level and we are naturally very proud of that. Want to know more about this certification or HYGENIQ®? Read more about them on the official Cradle to Cradle certified website or www.hygeniq.com.