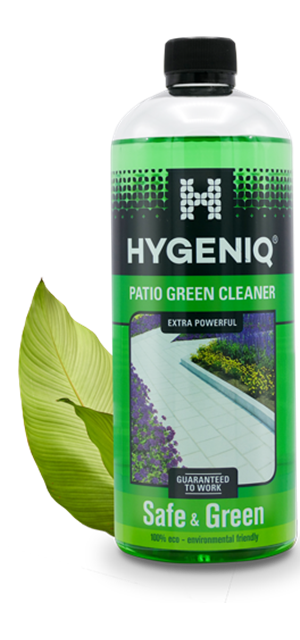 Patio Green Cleaner
Removes green scale and slime from patios, ornamental pavements and decks in a safe and ecological manner. No bio-accumulation.
Does not pollute groundwater
No chlorine, bleach or toxic substances
No scrubbing or hosing down
Long lasting result
Super concentrated formula (1:4 dilution)

Dosage: 1 : 4
Contents: 750 ml
Packaging: Bottle
About this product
HYGENIQ patio cleaner has no harmful nor toxic chemicals added. It is safe and mild to the skin and contains no harmful fumes.  Effectively, safely and easily cleans patios and ornamental pavements with a long-lasting effect. Green scale and slime are easily removed without the use of chlorine, bleach or other toxic substances. Suitable for tiles, flagstones, bricks, stone, ceramics, concrete, wood etc. Mix 1 part of patio cleaner with 4 parts of water. Apply to the surface to be cleaned with a sprayer or watering can. There is no need for scrubbing or hosing down and results will appear within 24 to 36 hours. Do not use when rain is expected within 8 hours after application.
HYGENIQ products do not pose a risk to your health, your property or the environment, provided that they are used for the purpose for which they have been developed by HYGENIQ, in accordance with the instructions provided by HYGENIQ.  Despite of this, it is recommended to keep it out of reach of children. For more information, visit www.hygeniq.com or send an e-mail to info@hygeniq.com.
Questions?
We are here for you