Hand gels & sprays
BIOSAFE
BIOSAFE hand gel 200 ml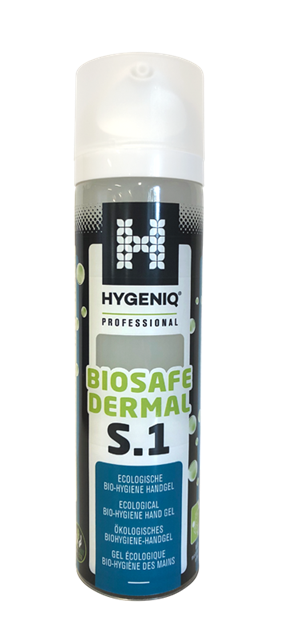 BIOSAFE hand gel 200 ml
A highly effective alcohol-free and natural bio-hygiene hand gel for use in places where optimal hand hygiene is desired or necessary. Optimal clean result without damaging the skin.
Optimal hygiene and easy to use
Skin-mild, safe and applicable for regular use
The 100% natural ingredients have been independently and successfully tested for COVID-19, H1N1, Mycobaterium Tubercolosis, Influenza, etc.
100% biodegradability, fully recyclable
Only renewable raw materials (no petroleum-based raw materials)
Only safe raw materials and components
Only natural fillers and fragrances

About this product
Most plants produce substances to protect themselves against microorganisms so that they can survive in their natural environment. Scientists have used the germicidal properties of these plant extracts (in our case of Citrus plants) to produce highly effective antimicrobial compounds, which prevent infections and have an antiseptic effect. The Biosafe formula thus offers an exceptional natural remedy for the treatment of non-hygienic skin infections. Biosafe and its ingredients are completely safe and suitable for human use (non-allergenic, irritant or corrosive). It is environmentally safe and biodegradable. It has been tested and validated by numerous laboratories and institutions around the world. Its 100% natural ingredients have been successfully tested on more than 170 individual pathogenic fungi, bacteria, yeasts and viruses. Such as, COVID-19, H1N1, Mycobacterium tuberculosis, flu, etc.
Biosafe is not volatile unlike products containing alcohol and has no pungent odour. In contrast to alcohol, biosafe helps to build up a natural resistance to micro-organisms. The level of protection provided by biosafe is strong enough to prevent and in many cases eradicate all pathogenic microorganisms that can develop and grow on your hands. Through the addition of skincare ingredients, Biosafe prevents dry hands and its moisturising effect and is suitable for frequent use. The results of the academic research are available on request.
Instructions for use
Wash heavily soiled hands beforehand. Apply an appropriate dosage of Biosafe Dermal S.1 to dry hands and rub in for up to 40 sec. for optimal hygiene. Do not rinse hands but allow to air dry..
HYGENIQ Biosafe-hygiene hand gel ingredients
Aqua, Hydroxypropyl Guar, Citrus Grandis Extract, Clycerin, Ascorbic Acid, Natural fragrance, Glucose
Questions?
We are here for you