Hand gels & sprays
BIOSAFE
BIOSAFE hand gel 1000 ml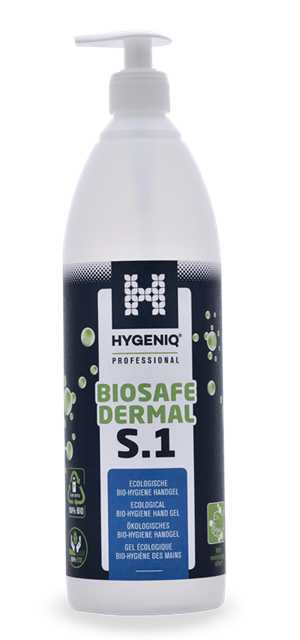 BIOSAFE hand gel 1000 ml
A highly effective alcohol-free and natural bio-hygiene hand gel for use in places where optimal hand hygiene is desired or necessary. Optimal clean result with a skin caring effect.
Suitable for use in the HYGENIQ KIQ hygiene station
Optimal hygiene and easy to use
Skin-mild and applicable for regular use
The 100% natural ingredients have been successfully tested
100% biodegradability, fully recyclable
Only renewable raw materials (no petroleum-based raw materials
Only natural fillers and fragrances

Instructions for use
Wash heavily soiled hands beforehand. Apply an appropriate dosage of Biosafe Dermal S.1 to dry hands and rub in for up to 40 sec. for optimal hygiene. Do not rinse hands but allow to air dry.
HYGENIQ Biosafe-hygiene handgel ingredients
Aqua, Hydroxypropyl Guar, Citrus Grandis Extract, Clycerin, Ascorbic Acid, Natural fragrance, Glucose
Questions?
We are here for you