Hand gels & sprays
Bio-alcohol
Bio-alcohol gel 1000 ml pump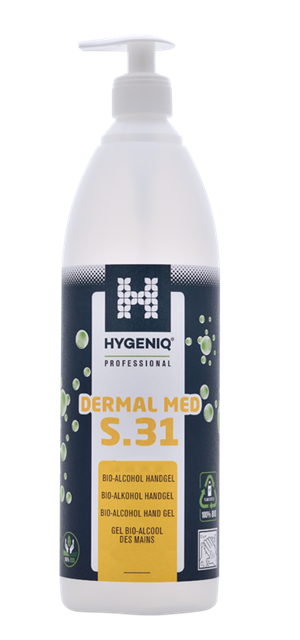 Bio-alcohol gel 1000 ml pump
DERMAL MED S.31 is an effective non-perfumed bio-alcohol hand gel that ensures an optimal result with a skin caring effect.
Suitable for use in the HYGENIQ KiQ hygiene station.
Produced under Cradle2Cradle GOLD certified guidelines.
Hydrating the skin
Optimal cleanness
Easy to use
100% biodegradability, fully readily biodegradable
Only renewable raw materials (no petroleum-based raw materials)
Only natural fillers and fragrances
Broad range effectiveness
Skin neutral

About this product
DERMAL MED S.31 is an effective hygienic gel that ensures optimal result and protects the skin against the negative effects of the urban environment. DERMAL MED S.31 is gentle on the skin. Due to the added skin care ingredients it prevents dry hands and is very suitable for frequent use.
Innovative sustainable technology: DERMAL MED S.31 is based on innovative molecular technology. All our products are developed according to the strict guidelines of the HYGENIQ sustainability manifesto. Please visit https://professional.hygeniq.com/duurzaamheidsmanifest/ for more information. Packaging: HYGENIQ uses sustainable packaging materials such as Plantbased Bio-PE and Post Consumer Recycled PET for its products. For more information, visit https://professional.hygeniq.com/over-ons/verpakkingen/ - 24 x 90 ml. Bio-PE Tube - 12 x 200 ml Evospray - 12 x 500 ml. PCR-Pet vial with dispenser pump / Art.code: E725011 - 6 x 1000 ml PCR-Pet vial with dispenser pump
Instructions for use
Wash heavily soiled hands beforehand. Apply an appropriate dosage of DERMAL MED S.31 to dry hands and rub in for up to 40 sec. for optimum hygiene. Do not rinse hands but let them air dry.
HYGENIQ Dermal med S.31 ingredients
- Transparent liquid - pH in concentrate: approx. 7
Questions?
We are here for you