Hand gels & Sprays
Optimal hand hygiene
Hand gels & sprays

Bio-alcohol
Hand gels & sprays

BIOSAFE
Hand gels & sprays

Hygiene station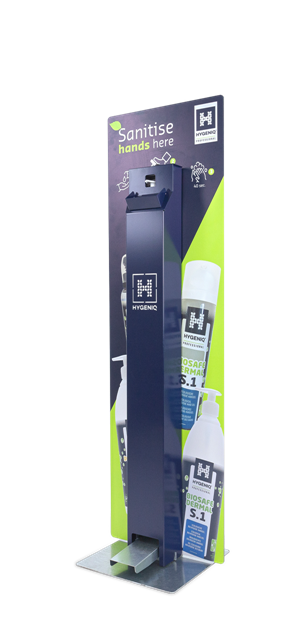 HYGENIQ KiQ
The HYGENIQ KiQ, part of HYGENIQ's Next Generation Hygiene concept, can help meet today's hygiene challenges. Today, special attention is being paid to new hygiene requirements for sensitive areas. More than ever, touching a faucet - especially in a public area - is not an attractive option. A foot-controlled hygiene station helps to make hand cleaning even more hygienic. 
Fully customizable
Touch-free & mess-free
Intuitive user experience
Easy maintenance
Space for three times 1 litre handle
Theft secured & Rugged frame
Foot operated
Read more
Questions?
We are here for you